Maybe this is a silly question….but what exactly is a house concert? 
Not a silly question! A house concert is a gathering of friends in your house or your yard who have come to listen to live music. It's a wonderfully intimate way - my favorite way! - to experience a performance, both for the artist and for the listener. It creates a special bond and builds a relationship that is hard to achieve during the normal hustle and bustle of a traditional show.   
Do I need to have a large house to host a concert? How many people am I expected to bring?  
You don't need a large house! The magical thing about a house show is the intimacy, so as long as people have somewhere comfy to sit where they can see and hear it's good for everyone. A performance for even 15-20 people can be completely wonderful. If you do have a larger space and have more people that can attend that's great too! 
Do you set a price for admission? 
House concerts generally operate on a "suggested donation" basis. It works well to have a basket or something else to put money in with a sign by the door, and it's wonderful if the host can make an announcement to make sure people know it's there. Suggested donation is usually $15-20, but if folks can't do that much no one will be turned away!  
Am I expected to provide anything for guests? Is there a typical structure to the afternoon or evening? 
Providing chairs is wonderful is you can, or you can ask people to bring a folding chair with them. Often times house concerts involve a potluck style gathering starting an hour or so before the show. It's a chance for me to meet and hang out with folks before the music which makes it that much more special to perform. I'm happy to play for 1-2 hours, however long people are enjoying it! We can do an intermission if that feels right, or people can use the bathroom and get drink refills as they wish. Every show is a bit different, and we can feel it out as we go. Lovely! 
I'm a bit anxious about the possibility of having strangers in my home. What can we do about that? 
We can definitely keep it to invite only! I will not list your address on my website. If I do have friends or fans in the area I might ask you if it's ok to invite them. If not that's totally ok! I want you to be as comfortable as possible.  
Well, this sounds like it could be really cool! Can we talk more about it? 
Yes! Email me at shawnee@shawneekilgore.com and let's talk!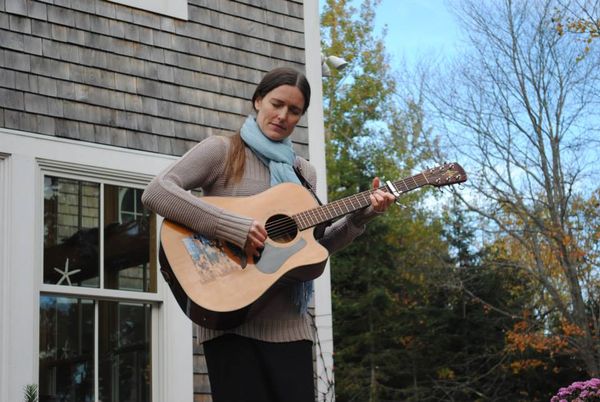 Photo by Annie Donovan, outdoor house concert on Long Island, ME